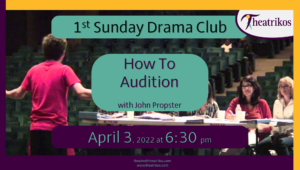 1st Sunday Drama Club
Topic: Mock Theatrikos Auditions Practice
Theatrikos
11 W Cherry
Flagstaff
Sunday, April 3rd, 2022
6:30 pm
Location: In person at the theatre!
Tuition: Free. Donations accepted.
Workshop Leader: John Propster
Description:
Participants in this workshop will have the chance to bring their audition skills up to snuff with a mock audition colored with informational oversight and feedback from John Propster, one of Theatrikos' experienced and esteemed directors. A side or two will be read, nerves will be experienced and overcome, and foreboding thoughts of auditioning will be replaced with insight and expertise of the audition experience to manage everything a Theatrikos audition asks of its hopeful participants.
Registration
• Admission is free
Safety Protocols
 Social distancing
 Masks required
 Proof of vaccination required
Presented in Partnership With
• The Bluffs, Senior Living
Info
theatre@theatrikos.com