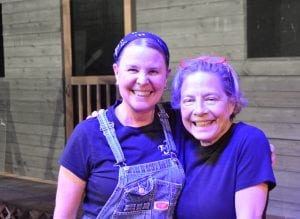 We are always seeking motivated, energetic and dedicated volunteers to fill various  roles including:
Fundraising
Stage Management
Opening Night Receptions
Scenic Design
Costume Design
Sewing
Light Board Operation
Sound Engineering
Backstage Crew
Front of House Staff
Poster Distribution
General Administrative Support
We invite you to create a profile through our volunteer scheduling program. It's really simple and you can let us know what you're interested in doing. When we need help, we'll email you. Or, you can see for yourself the volunteer shifts we have available and you can sign yourself up. And don't worry if your plans change and you can't make it to your shift—you can also request a sub for your spot.

To show our gratitude, we schedule a variety of volunteer appreciation events throughout the year, including a spring dessert and ice cream social, a summer BBQ on the patio, and an annual volunteer appreciation celebration where we recognize our Volunteer of the Year, give out certificates to all volunteers, and award pins, created by Peter Wolff, Gold Wolff Jewelers, to individuals who have volunteered for five or more years.
We hope to see you at the theater soon!