We're heading into our 48th year!
Season tickets make great gifts!
To purchase, call, visit, email our box office or purchase online!
928-774-1662 11 W Cherry Avenue
HOURS: Mon Wed Fri noon to 6 p.m. and two hours prior to showtimes.

Theatrikos' 2020 season
Holmes and Watson
By Jeffrey Hatcher
Directed by Mickey Mercer
January 31—February 16, 2020
Sherlock is dead. Or is he? Watson must learn the truth. And the game's afoot. Twists and turns and red herrings in one of the great detective's most engaging mysteries.
Roald Dahl's Matilda The Musical
Directed by Joe Maniglia and Jan Rominger
March 27—April 19, 2020
Spectacular Tony Award winning musical for the whole family. Exhilarating and revolutionary tale of empowerment featuring Broadway's biggest little hero.

Other Desert Cities
By Jon Robin Baitz
Directed by Becky Daggett
May 29—June 14, 2020
In this 2012 Pulitzer Prize in Drama and Tony Award finalist, a progressive writer comes home to her conservative parents. When a long-held family secret is revealed, old wounds are opened, and the family is forced to face their past head-on. This play also received Tony Award nominations for Best Actress, Scenic Design, and Lighting Design and a win for Best Actress in a Featured Role.

Lend Me a Tenor
By Ken Ludwig
Directed by John Propster
July 24—August 16, 2020
Nine-time Tony Award nominated side-splitting classic farce. Madcap setups, mistaken identities, room swaps, hilarious misunderstandings, bawdy overtones and quirky characters make this opera buffa gloriously fun.

Rose's Dilemma
By Neil Simon
Directed by Michael Rulon
October 2—18, 2020
In Neil Simon's latest, celebrated writer Rose Stern stands at a crossroads: she hasn't written anything in years and money is getting short. Her former lover offers her—from beyond the grave—an opportunity to regain her celebrity and gross millions.

Miracle on 34th Street
By Valentine Davies
November 27—December 20, 2020
When a nice old man who claims to be Santa Claus is institutionalized as insane, a young lawyer defends him by arguing in court he is the real thing—thus exemplifying the true magic of the season.

Studio Series (Not included in season ticket price)

5 Lesbians Eating a Quiche
By Andrew Hobgood and Evan Linder
Directed by Allison Ballou
Performed at Montoya Community Center
June 19—28, 2020
It's 1956 and the Susan B. Anthony Society for the Sisters of Gertrude Stein are having their annual quiche breakfast. Will they be able to keep their cool when Communists threaten their idyllic town?

Well
By Lisa Kron
September 4—6, 2020
The powerful medical comedy drama paints a mother-and-daughter picture of rich, unusual artistry that explores issues of health and wellness.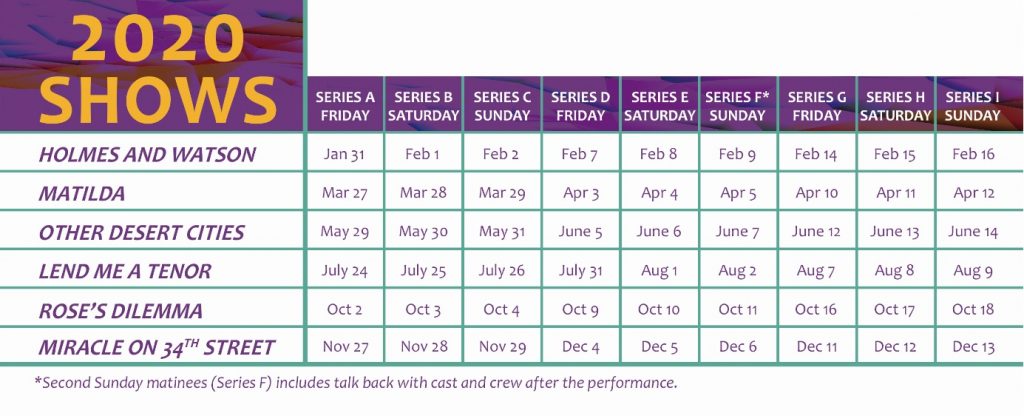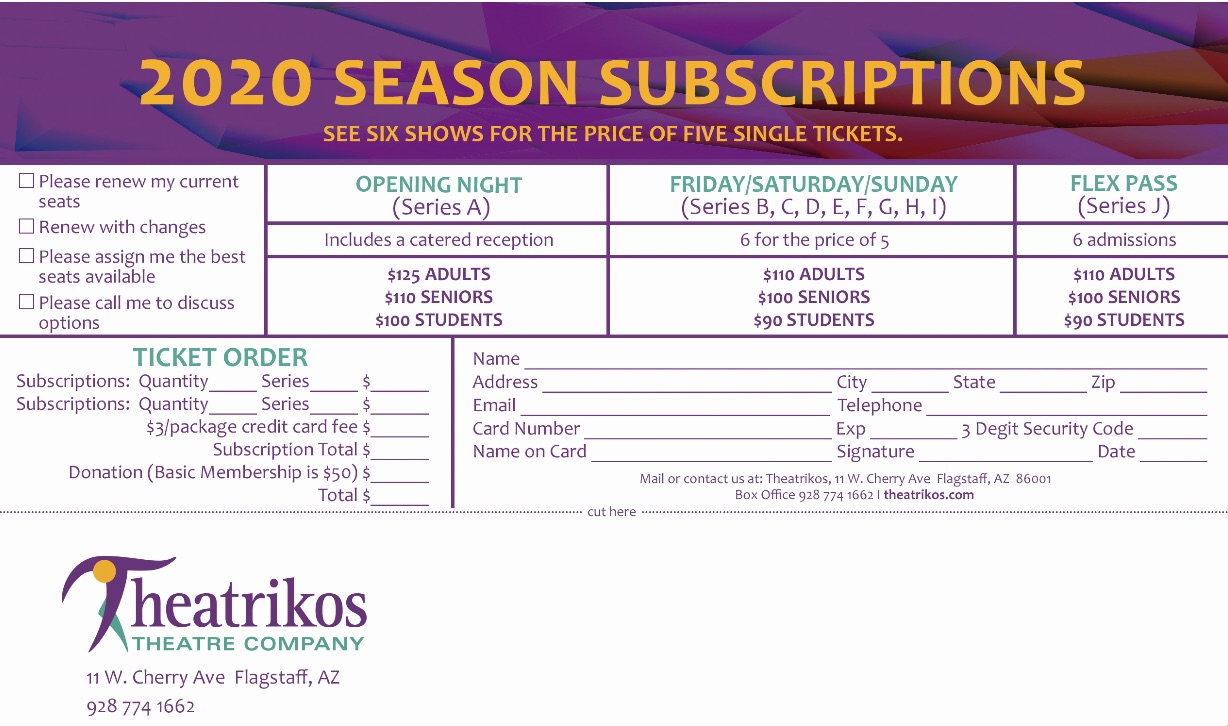 Individual tickets can be purchased online; by calling (928) 774-1662; or by visiting the theatre's box office, which is open from noon to 6 p.m. Mondays, Wednesdays, and Fridays and two hours prior to each performance.