High-spirited wit takes center stage in Theatrikos production of 'Blithe Spirit'
We're bringing Noël Coward's intensely funny and character-driven play, "Blithe Spirit," to Flagstaff for three weekends in April at the Doris Harper-White Community Playhouse in historic downtown.
At the heart of the play is fussy, cantankerous novelist Charles Condomine, who invites the eccentric medium Madame Arcati to hold a séance at his home to gather inspiration for his latest book. Despite initially thinking it was a failure, it becomes clear that Madame Arcati has unwittingly brought back Charles' first wife, Elvira, whose haunting attempts to disrupt Charles's marriage to his second wife, Ruth. As the (worldly and otherworldly) personalities clash, Ruth is accidentally killed and joins Elvira to haunt the hapless Charles—bringing them to call upon Madame Arcati once again.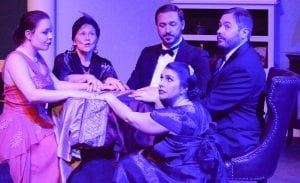 "There are certainly hysterically relatable themes and a timeless charm in 'Blithe Spirit'," said director Amelia Swann. "I hope this play brings a bit of much-needed levity with its light-hearted comedic twist on 'til death do us part'."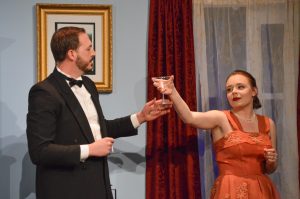 The cast of seven includes Chrissy Doba, Kelly Gibbs, Kelsey Hontz, Brent Laney, Jacob Parafiniuk, Molly Parafiniuk, and Audrey Young.
Performances 7:30 p.m. Fridays and Saturdays, and 2 p.m. Sundays April 6–22. Tickets $13-24 plus applicable fees. The April 6 opening performance includes a reception.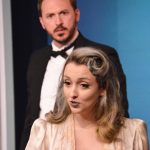 Tickets can be purchased online; by calling (928) 774-1662; or by visiting the theater's box office, which is open from noon to 6 p.m. Mondays, Wednesdays, and Fridays and two hours prior to each performance.