Flex passes for our 2019 season are now available through our box office during open hours: MWF noon to 6 p.m. and two hours prior to showtimes. Call 928-774-1662, email the box office, or visit in person to get yours!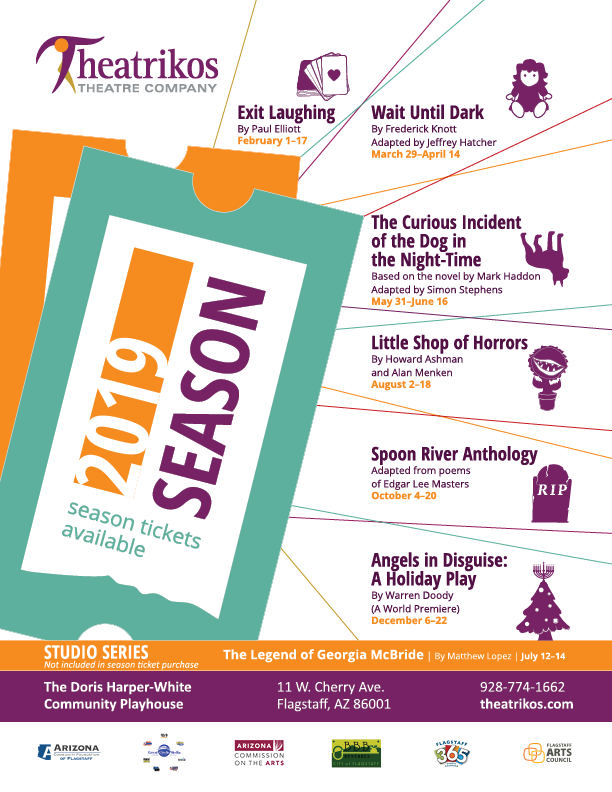 Exit Laughing
By Paul Elliott
February 1–17
Directed by Mickey Mercer and Amelia Swann
A weekly bridge night with the girls takes an unfortunate turn when one in the foursome inconveniently dies. But the longtime friends from Birmingham transform it into the wildest and most exciting night of their lives when they "borrow" the ashes from the funeral home for one last card game.
Wait Until Dark
By Frederick Knott, adapted by Jeffrey Hatcher
March 29 to April 14
Directed by John Propster
A blind housewife unwittingly comes to possess a doll filled with heroin, which a brutal criminal and two small-time thugs want to get their hands on. A deadly game of cat and mouse ensues in this masterful thriller that plays on the themes of darkness and light. 
The Curious Incident of the Dog in the Night-Time
based on the novel by Mark Haddon, adapted by Simon Stephens
May 31 to June 16
Directed by Scott Ballou and Dani Knight
Fifteen-year-old Christopher has a unique mind that is phenomenal at math but ill-equipped for everyday life. When he discovers his neighbor's dog speared to death with a garden fork, Christopher finds himself under suspicion. His work to solve the murder mystery takes him on a thrilling journey that upturns his world.
Studio Series
Not included in season ticket purchase
The Legend of Georgia McBride
By Matthew Lopez
July 12–14
Directed by Nichole Garrison
When a drag show comes to town, Elvis impersonator Casey, trades in his role as "The King" to become an all-out queen with the help of some new friends who become the second family he never saw coming. The Legend of Georgia McBride takes us on a delightful journey of self-discovery through song, spectacle, and sequins! 
Little Shop of Horrors
Book and lyrics by Howard Ashman, music by Alan Menken
August 2–18
Directed by John Propster and Jan Rominger
This delectable sci-fi horror musical with an electrifying score tells of a meek and dejected flower shop assistant who happens upon a strange plant, which he affectionately names after his crush at the shop. Little does he know this unusual plant will develop a soulful R&B voice, a potty mouth, and an unquenchable thirst for human blood, and ultimately, for world domination. 
Spoon River Anthology
Adapted from poems of Edgar Lee Masters
October 4–20
Directed by Patricia McKee
In this beautifully haunting play, the former residents of Spoon River examine life and the longing for what might have been. Reflecting on their dreams, secrets, and regrets, they paint a gritty and honest portrait of the town as all of their pasts are illuminated.  
Angels in Disguise
A Holiday Play
By Warren Doody (A World Premiere)
December 6–22
Directed by Virginia Brown and Linda Sutera
It's Christmas Eve, and the Freckletons are about to celebrate their tenth Christmas in southern California. A relatively routine holiday celebration turns into utter chaos in this modern, comedic, and family-friendly spin on "the Christmas play," weaving in social media, romance, the solstice, Hanukkah, and the need to put our differences aside to fully appreciate the gift of the holiday season.