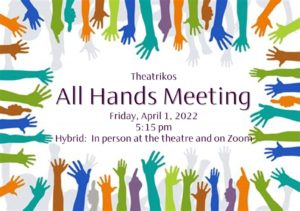 Theatrikos Semi-Annual All Hands meeting is Friday, April 1 at 5:15 pm.
The meeting is both in person at the theatre and on Zoom. If in person, you will follow our safety protocols. Email theatre@theatrikos.com for Zoom link.
We'll discuss our (fingers crossed) new lease and what the means for the future of Theatrikos. As well as the ever changing covid safety protocols.
Everyone in Flagstaff is welcome to attend. It's a great way for old hands to get an update and for new hands to get involved. Plus, you can see the newly renovated multipurpose room.