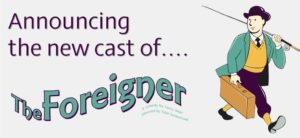 Congratulations to the cast of The Foreigner!
Froggy………..Michael Rulon
Charlie………..Ricky Conway
Betty………..Christine Fredericks
David………..Kai Bergland
Catherine………..Rachel Santay
Owen………..Wayne Purves
Ellard………..Casey Russell
A special heartfelt thanks to those who auditioned but were not cast. You made the directors' decisions very difficult. Our turnout for auditions was wonderful. We hope you'll audition for one of our upcoming shows. (Nunsense? Cemetery Club? Miracle on 34th Street perhaps?)
Foreigner runs May 20—June 5, 2022.