Actors Wanted for Live Theatre
Theatrikos seeks experienced and new actors for a hilarious musical omedy in our 2022 50th anniversary season.  Diverse actors from all walks of life are encouraged to audition. 
Nunsense, by Dan Goggin, will be performed live with an in-person audience at Theatrikos. Directed by Dani Commanda.  Musical Director Sarah Casey.  Assistant Director Aimee Lucus.
All Roles Open
* 5-20 singer/actors
* 5-15 F
* 5 M
* Ages 18+
* All genders
* All ethnicities
Audition Format
For Nunsense, singer/actors will be asked to sing for the director.  Exact music TBD.  All levels of experience are welcome. We love discovering new talent!
Dates
* Audition Dates: Sunday and Monday, May 22 and 23, 2022, 6:30 pm
* Performances: July 22—August 14, 2022
Nunsense
Disaster strikes rather hilariously at the Little Sisters of Hoboken where the cook has accidentally poisoned most of the parish. Only five sisters remain, and with the health inspector on the way, the sisters devise a crazy plan to pay for the burials.  A laugh-filled musical tour-de-force.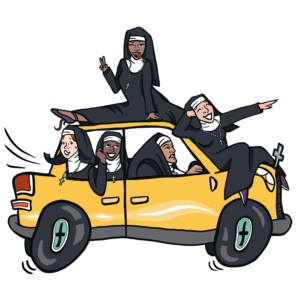 Actor Safety Protocols
* Proof of vaccination required; including children
Audience Safety Protocols
* Social distancing on Sunday performances
* N95 masks worn throughout the performance
Sponsor
* The Bluffs, Senior Living